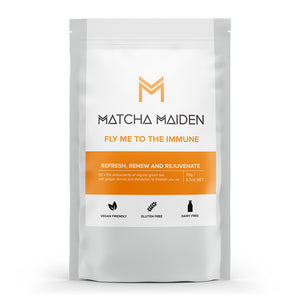 Matcha Maiden
FLY ME TO THE IMMUNE
137 x the antioxidants of regular green tea with ginger, fennel and dandelion to freshen you up
MATCHA MAIDEN sources 100% pure Japanese matcha that is vegan friendly, naturally gluten free and has up to 137 x the antioxidants of regular green tea.
FLY ME TO THE IMMUNE carefully combines the magic of matcha with peppermint, ginger, fennel seed and dandelion root. With ingredients known for their cleansing and tummy soothing potential, this is your new "immuni-tea".
FOR MORE INFO, head to www.matchamaiden.com and join our communi-tea by following @matcha_maiden on Instagram.
---
More from this collection