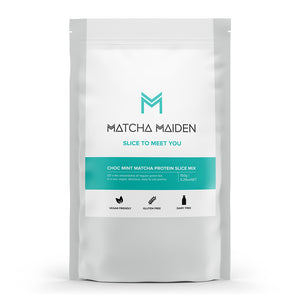 Matcha Maiden
SLICE TO MEET YOU - CHOC MINT MATCHA PROTEIN SLICE MIX
137 x the antioxidants of regular green tea in a raw, vegan, delicious, easy to use premix
MATCHA MAIDEN sources 100% pure Japanese matcha that is vegan friendly, naturally gluten free and has up to 137 x the antioxidants of regular green tea.
SLICE TO MEET YOU is the answer to all your raw treat prayers, mixing the magic of matcha into a matcha mint choc chip protein slice premix. Requiring only coconut oil and a fridge to prepare, it is surprisingly simple to make and delightfully delicious to enjoy.
FOR MORE INFO, head to www.matchamaiden.com and join our communi-tea by following @matcha_maiden on Instagram.
---
More from this collection